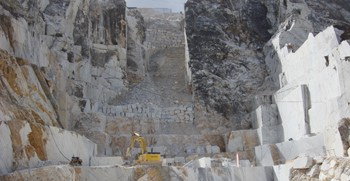 Providing New England with the most exquisite marble, granite, and other fine stones, Everett, MA-based Cumar Inc. brings a long family history of unyielding passion for stonework. The Cumar legacy in Massachusetts began with owner Angelo Ivo Cubi. Ivo was born in Verona, Italy, a city housing some of the world's oldest and most established stone suppliers. Ivo was taught at an early age how to select, fabricate and install marble and granite. He used his passion, experience and material knowledge to establish Cumar Inc. in 1992, specializing in importing marble and granite from his native Italy. Cumar quickly grew into one of the Northeast's most successful natural stone fabricators and importers.
The family business today includes Carlotta Cubi, Cumar CFO/Comptroller, born in Verona, Italy. Carrying on her family legacy in couture stonework, she says, "It's in my blood. I couldn't see myself doing anything else. My dad, the artisan, knows the stone business better than anyone. With my help and background in the business, we are growing."
With a passion recognized by every one of their clients, Cumar embraces the most challenging projects to make the customer's vision a reality. Ivo demands his employees master the craft and nothing short of perfection and highest quality are permitted. His trained eye can pick up the slightest imperfection, and his commitment to his standards of quality keep him constantly hands on in all aspects of the family business. There is nothing that is more rewarding for him than to see a natural beauty become a finished piece of art.
He has found that through staying true to his passion and focusing on sourcing the highest quality materials from reputable and established suppliers, he has become an industry leader. By investing in the most advanced technology, hiring top craftsmen, promoting apprentices and building his team with the best players in the industry, Ivo has earned his illustrious reputation.
Cumar – The Best Stone Countertops in the World