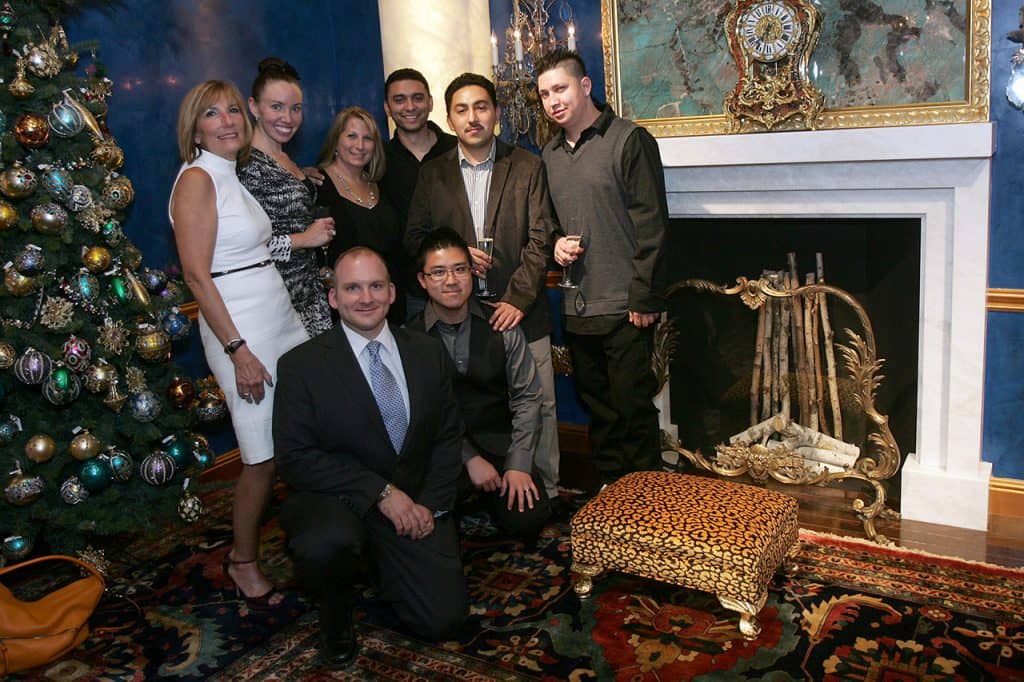 A glamorous reception last Wednesday night kicked-off the "Home for the Holidays" exhibit at Neiman Marcus' fabulous Copley Place location.
"I never thought in a million years that our little gift gallery could be transformed into three amazing royal residences," said Daniel Kramer, Vice President and General Manager of Neiman Marcus Boston, in his opening remarks. New England Home publisher Kathy Bush-Dutton spoke next, echoing Kramer's sentiment and crediting the three designers and their teams.
Tony Fusco, co-producer of "Home for the Holidays," announced the schedule for Boston Design Week 2015, which takes place March 19–29 in Boston. He then put the spotlight squarely on Cumar's own Dawn Carroll, who took the microphone to emphasize the vital importance of mentorship in the world of design and in this exhibit especially.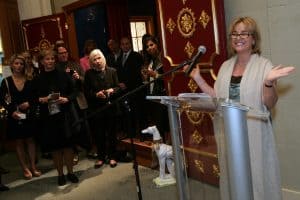 "There's no school for stone design," Carroll said. "That's why mentorship is so important to Cumar, and that was part of the reason I founded the Over My Shoulder Foundation. In mentorship, we act as good stewards for our industry and our society."
To produce "Home for the Holidays," three Boston designers were invited to re-imagine famous royal palaces, and each were asked to allow a mentee to contribute significantly to the vision and project.
The Versailles room, designed by Paula Daher and mentee Virginia Seherr-Thoss, offers the classic gold trim in perfect balance with the decidedly modern furniture. The finishing touch? A pair of Christmas trees that sparkle with silver and gold ornaments.
Intoxicating in its blend of comfort and style, Gerald Pomeroy and mentee Lauren Cozzi's Balmoral room boasts green-and-white wall panels of British country scenes, tweedy wall-to-wall carpet, and a rustic lantern chandelier above the table.
In the Winter Palace, Eric Roseff and mentee Evie Hickey dazzle with deep blue walls, a mélange of richly-textured furniture—including green leather chairs and a lush blue sofa-in-the-round—as well as faux windows that face an array of mesmerizing portraits.
Cumar Marble and Granite provided magnificent pieces of stone art for each space, carved fireplaces, framed pieces of semi-precious stones—and something special in the Winter Palace: two gorgeous white natural quartzite columns, both back-lit for ambiance, resembling floor-to-ceiling icicles. Each piece is a stunning work of art.
"Home for the Holidays" can be visited in the home section of the Neiman Marcus store in Copley Place, Boston. The event will close in January 2015 with a mentoring gala sponsored by Cumar and the Over My Shoulder Foundation.